Write Links Meets in Person – At Mount Cootha Botanic Gardens!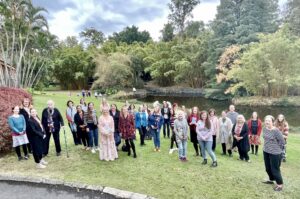 After such a long time meeting only in the digital ether, our group members were reunited on Saturday, 26th of June, in the Botanic Gardens Café. Our coordinator Yvonne Mes did a fabulous job as usual as she led us through networking and a catch up on the members in their literary journeys. We then had a little quiz before engaging in our writing activation, the competition was tight to the very end but our winner was Tyrion Perkins, who took home a copy of Michaela Daphne's novel Purlieu, the first in a trilogy of YA fantasy thrillers called the Hidden Grove series.
This month's writing activation was divided into two parts, with the first led by Zewlan Moor. We were presented with a selection of titles that follow a distinct poetic theme — Cat About Town by Lea Decan, Wet Cement by Bob Rackza, Scribbly Gum Secrets by Dannika Patterson, A New Green Day by Antoinette Portis, and CJ Dennis' poem Hist in a picture book format. With the books shared out among us, writers then had a go at creating similarly evocative prose to experience what observations of nature can come to life in our work.
For the second part our guide was Justine Lawson, who gave us an understanding of observational drawing. Firstly, we were to draw something entirely from memory, and then upon looking at our items in real life we realized the unreliable nature of our visual memory! With this knowledge in mind Justine gave us tips on how to sketch while the subject matter is in view, then we were to select a particular view from our cosy café room and just have a good old go at sketching it. Justine has encouraged us all to come back to our drawings in a couple of weeks and notice how that little artwork compares to the memories we hold onto from the day. In this way, Justine demonstrated that even the simplest sketching can act as a snapshot of time and transport us back whenever we see it.
Following on, we split into critique groups to provide our peers with support, feedback and inspiration. These sessions can be incredibly helpful for the development of our stories, and with monthly gatherings like these our work can be polished to publisher ready perfection.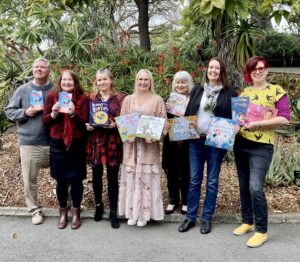 Finally, our visit to the Brisbane Botanic Gardens held a special purpose: to attend the Book Links art exhibition held in the Richard Randall Art Studio.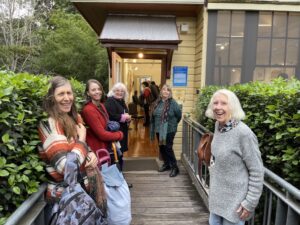 This exhibition featured work by Megan Forward, Sue Wright and Caroline Magerl, which was an incredible source of inspiration and motivation on our own creative paths.
Groups toured the artwork, soaking up the glorious worlds captured within each piece, making purchases of artworks or books illustrated by the featured artists, and if fortunate enough, had the opportunity to meet and speak with the illustrators themselves.
Another excellent meeting, and hopefully we'll get to meet in person again soon!
Photo credits: Maria Parenti, Annaleise Byrd.
Update: Read in depth about Justine Lawson's observational drawing session here.