Peter Taylor, Author Of Once a Creepy Crocodile, Answers Questions over some Afternoon Tea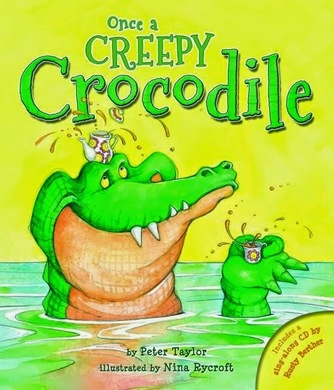 'Once a Creepy Crocodile'
Written by
Peter Taylor
Illustrated by
Nina Rycroft
and includes a sing-along CD by Rusty Berther
Published by The Five Mile Press
Release date 1st July 2014
See that title? That was me trying to be clever working some of the story line of
Once a Creepy Crocodile
into it.
The story:
Once a creepy crocodile swam toward a riverbank, his eye on a very tasty brolga. When the croc invites the brolga to afternoon tea the brolga's friends raise the alarm that it's a trap and the croc must make do with a sneaky snake treat instead!
(From The Five Mile Press website)
For a detailed review click here.
Brisbane Write Links members are very lucky to share their children's writers group with
Peter Taylor
. Not only is he a wonderful writer, he is extremely generous with his time and in sharing his knowledge with emerging writers and illustrators.
Here is an insight by Peter Taylor on how the story came to be, from inception to publication:

Once a Creepy Crocodile
was first envisioned in collaboration with fellow author Julie Nickerson at the Ipswich Festival of Children's Literature in 2009, in a workshop given by Jan Ormerod. Julie graciously agreed that I could develop it, but it could equally have been her story.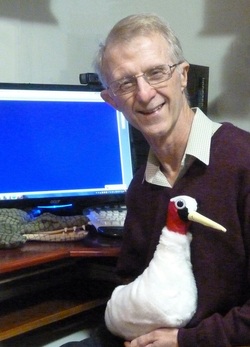 Jan followed its progress with much interest, but unfortunately passed away before hearing of its acceptance.
In its multiple drafts, there were many times I asked for opinions and suggestions from others in a range of networks: members of the Australian College of Journalism Yahoo group, SCBWI, Kids-writers Downunder Yahoo group, Career Booster network and others, and I also paid Jackie Hosking to see if she could make suggestions through her verse service. There are none more generous than children's book creators.
The first 250 words were first pitched to a panel of international agents at the SCBWI Symposium at Bologna in 2010. All the American agents said 'What's a brolga' and 'What's a dingo? I don't think our children would be interested in those.' But New Zealand agent Frances Plumpton was encouraging, and so were the attendees. At one time I was advised to make it longer, which I did. I rejected an offer to partnership publish.
It scored well in the CYA competition, but didn't make the shortlist. You just have to find the right editor and publishing house team, because all members of the team have to support a text at an acquisition meeting, even the sales reps. One vote of 'No' is usually enough for a rejection.
Fortunately, at a paid appraisal at the Sydney SCBWI Conference in 2012, Karen Tayleur, from the Five Mile Press loved it. I immediately asked Nina Rycroft, who's one of my favourite illustrators and who was at the conference, if she would be prepared and available to illustrate it if asked and the price was right. In a formal submission, I told Karen that Nina would like to be considered. But there was a problem. The words are to the rhythm of Waltzing Matilda and the sales team believed it would sell better if it had an attached CD of it being sung which meant there were some Copyright issues of the waltzing Matilda melody to be sorted out.
The illustrations Nina has done in watercolour are absolutely wonderful, vibrant and delicious.
The CD was recorded by Rusty Berther who has appeared on Spicks and Specks and sung at every AFL Final Breakfast over many years.
Wanting to see your picture book traditionally published certainly asks for lots of patience, dedication and a never-give-up attitude. Thank you for that insight, Peter. Here is the interview: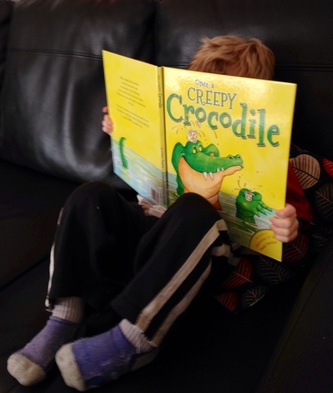 How long have you been writing for children?

I started making up bedtime stories for my own children in the early 1990s. Some stories were so boring that I'd fall asleep while telling them and the children would still be wide awake, so my wife suggested that I should enrol in the Australian College of Journalism 'Professional Children's Writer' course, which I started around1997.
How did you feel when you first saw the illustrations?

Unlike the book's watercolour versions, the first illustration sample that I saw was painted in acrylics. That was as vibrant and beautiful as are the pictures that were used , and I knew that potential readers would love them. People always comment first on the illustrations in picture books, they never start by saying 'What wonderful words'.

I am curious, you mentioned you were offered a partnership publishing contract. Why did you decide against it?
For one thing, I couldn't spare the cash that they required, but so many people loved the text that I considered that there would probably be a traditional publisher somewhere, at some time, who would recognise its potential to be successful for all concerned, a business who would pay me and not require my financial outlay. And I believe that, generally, traditional publishers have the best track record in marketing and promoting books, for example, by employing sales representatives who talk to and enthuse bookstore proprietors, and these publishers' distribution mechanisms are the most efficient in getting copies into the hands of those who may chose to make a purchase.
Have you got any advice for unpublished writers in how to get published with a traditional publishing house?

Never give up trying – everyone receives multiple rejections, even the most famous authors and illustrators. Go to talks, do courses and workshops, talk to published authors and learn industry expectations. Keep reading and writing. Pay to have have stories appraised by traditional house editors at conferences and festivals. Network with editors and publishing professionals (including sales reps, they also have a say in the acquisition process). Meet and talk to as many editors and staff in person as you can (which can often be done without cost by attending book launches, award ceremonies and the like) with the hope that they will recognise that you are a normal, civilised and professional person, someone who is unlikely to refuse to consider suggestions for changes in the editing process, someone who is unlikely to phone three times a day to check progress but who will probably deliver amendments on time , the kind of person they would like to work with.

What are you working on now?
I keep making small changes to several stories that were once considered 'finished', but which I now think I can improve, ready for another submission. I'm creating a decorative border and calligraphing someone else's text, which is lined up to be published, but I'm not sure when, and I have a historical creative non-fiction biography of 19th century hermit who boarded himself up in his house for 25 years. That's maybe YA, and has been on the back-burner for far too long. And my website is 14 years old and needs rebuilding, as does a retaining wall and my carport…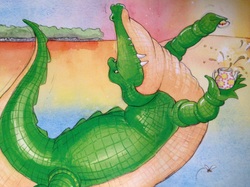 Hm, that is a serious 'to do' list!
Your story rhymes beautifully and rolls off the tongue very naturally, how hard is it to write in rhyme? Did it involve many revisions or are you a natural?

Thank you! Writing in rhyme is fun but not easy for me. I'm not a compulsive rhyme writer. It's rewarding, but hard work! Rhyming is usually not the most difficult part. The hardest thing is making the storyline flow, too, and maintaining the beat rhythm with no missing or added syllables. Each phrase has to come naturally in a perfect and logical sequence, just as you'd speak in conversation and the story wasn't rhyming. You can't contort lines to something unnatural to make a rhyme. It must be a good story, whether it's in rhyme or not. In the writing process, it's really easy to believe that certain lines should be retained simply because they fit and rhyme well – whereas in fact, in order to keep the actual story cohesive, or avoid a problem elsewhere in the verse, it would actually be better to ditch or re-write the whole verse completely and make it totally different from this original version.

There were many many revisions over three years and large numbers of suggestions were received from other writers when the going got tough. Changes continued to to be made even after the editor and I thought it was finished …in order for Rusty Berther to sing it to his favoured musical arrangement, and I provided him with about 10 new alternatives for one line.
The CD is lovely with a version of the your story and the original Waltzing Matilda version, did you ever dream that your story would also be a song?

Not initially, when writing it, but later I did fancy that it could be played and sung at a launch if it was ever published, and also that school choirs and musicians may choose to sing and play it. I've retained the rights for the words to be used as song lyrics and music scores are now downloadable from my www.writing-for-children.com website and I'd love to see and hear people's renditions on YouTube. I'll send them a small gift if they post there. I certainly never considered that a recording would be included in the book. I believe that was the idea of the publisher's sales team. The rhythm of the words closely matches 'Waltzing Matilda' and I love Rusty's performance.

Well, I'd better get going and record my children singing your song, but before I go, where can we buy your book?
It should be available in Australia from 'all bookstores' and eventually, I hope, in other countries too. And here at www.booktopia.com.au. The recommended price is $16.95.
There will be more launches of Once a Creepy Crocodile. Watch this space.