October Success For Write Links Members
What a month it has been for Write Links members! We had a fantastic presentation by
Sheryl Gwyther
at our last Write Links meeting on the finer art of writing short stories for children. It was fabulous to hear several of our members had articles and short stories accepted by
The School Magazine
after attending the Story Arts Festival. Congratulations to
Cherri Ryan
and
Betty Collarson!
October also saw THREE launches by Write Links members:
Samantha Wheeler
launched
Mister Cassowary
her latest junior fiction novel by
UQP
at Riverbend Books.
Big bird. Big mystery. Can Flynn solve it?
New from the author of bestselling Smooch & Rose and Spud & Charli, Mister Cassowary is a thrilling adventure about these unique and dangerous birds.
City boy Flynn is taken to Mission Beach by his dad to ready his Grandad Barney's banana farm for sale. Flynn has never been north before, even when his grandad was alive, and the last thing he wants to do is to be stuck in the middle of woop-woop with his dad who thinks he is too young to be trusted with anything!
But when Flynn meets local girl Abby and two lost baby cassowaries things become interesting. What does Abby know about Grandad's mysterious death? And why does Dad refuse to talk about it and seem so scared of the cassowaries? Did this dinosaur-like bird kill Grandad?
Time is running out and Flynn and Abby need a plan. Can Flynn solve the mystery before it is too late for the cassowaries?
A thrilling and heart-pounding adventure for animal lovers everywhere. (From the UQP website)
---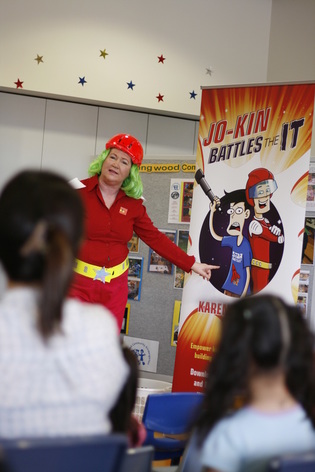 Karen Tyrrell
launched her latest junior fiction novel,
Jo-Kin Battles the IT
at Logan North Library.
Goof ball Josh Atkins aka Jo-Kin wins the Super Space Kid contest alongside nerdy Sam Jones aka Sam-Wich.
Their first Super Space Kid mission is to save the galaxy from deadly alien, called the It. When the It kidnaps Captain Astra, it's a race against time. Can Josh save Astra, the galaxy and us all … before it's too late?
Blast off with Jo-Kin in this hilarious space adventure to empower kids with resilience, team building and brain power skills, illustrated by Trevor Salter.
---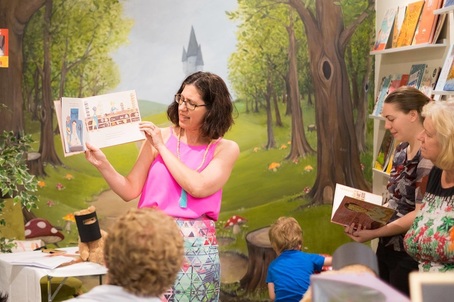 Yvonne Mes
launched her picture book
Meet Sidney Nolan
, illustrated by Sandra Eterovic, published by
Random House Australia
at the Mad Hatters Bookshop.
Sidney Nolan is one of Australia's most admired and recognised visual artists. This is the story of how he developed his iconic Ned Kelly series of paintings, brought modernist art to Australia and took Australian art to an admiring international audience.
Part of a picture book series about the extraordinary men and women who have shaped Australia's history, including iconic painter Sidney Nolan.
From Ned Kelly to Saint Mary MacKillop; Captain Cook to Banjo Paterson, the Meet … series of picture books tells the exciting stories of the men and women who have shaped Australia's history.