An Interview with James Moloney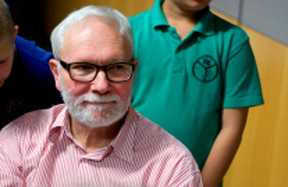 Writing a series? You won't want to miss the upcoming workshop,
Planning a Series
with Australian author
James Moloney
, hosted by Write Links. (Booking info found at the bottom.) 
James Moloney's career spans two decades, during which he has written nearly 50 books. He's won many prizes, including two CBCA Book of the Year awards. 
Alison Stegert (Book Links committee member) spoke with James about his long and successful career as an Australian creator of children's literature.
Influences
Alison: I'm curious to know if there is a literary gene. Does literary talent run in the Moloney family?
 
James: I suppose so! My paternal grandfather was a doggerel poet in the tradition of Banjo Paterson. He was published weekly. My mother was an English teacher, and, like many English teachers, she aspired to write a book.
 
Alison: You mentioned that your family members are willing to read your work. Lucky you! My daughters suddenly have to rewash their hair when I ask them to read my writing.
 
James: My daughters were pretty keen helpers, particularly the younger one. When she was small, she liked the idea of helping Daddy. She still offers useful feedback, even though she's well past the age of my readers.
 
The older daughter took the request to read my writing as an academic exercise. She may one day work in publishing and is studying towards that goal. She's a voracious reader, and is my best source of good reading recommendations.
 
I'd say my son has 'the gift.' He has a terrific turn-of-phrase and a great love of words. I'd encourage him if he ever wished to try his hand. At the moment he's studying to be a paramedic.
 
My wife is always my first reader. As a retired teacher-librarian she has a great eye for children's literature.
Writing Process
Alison: Tell us about your writing process. Are you a plotter or a pantser?
 
James: A plotter, absolutely. No winging it for me. I must know where I'm going. Before I begin writing a chapter, for example, I dot-point the whole thing. I know what's going to happen, what people say. When I know what's going to happen, I can focus on creating the rich stuff.
 
This way, when I get about half way through a story, and it feels like the plot structure is crumbling before my eyes (as it does for most people), I don't panic. I know after all these years to trust the process. I can just keep going according to my plan.
 
I don't necessarily stick to it rigidly. There's still latitude for changing things.
 
Alison: What is your favourite part of the writing process?
 
James: Finishing it! Once I have a full draft, it's a pleasure to fix it up. That part is enjoyable.
 
Even after all these years of doing it, I still slog through the first draft. I have yet to find a way of making the first draft easier. I often say it's like climbing a huge mountain. You can only get so far in a day, but every day you're closer to the summit. It's all uphill though.
Industry Insights
Alison: What are the most significant changes you've witnessed in publishing over your writing career?
 
James: I'd say that it's easier to get a book published now than it was when I first started out.
 
Alison: I can think of lots of words related to getting published and 'easy' isn't one of them.
 
James: I'm sure that sounds strange. I say it because the number of books published every year is greater. The business model has changed. Instead of ten carefully developed children's books, publishing houses will now put out, say, twenty- five with small advances and minimal marketing. The hope is that one of the twenty-five will take off and sell well. The ones that don't, fade away.
 
Publishing has developed a corporate mindset. Now, it's about finding and producing 'the next big thing,' whereas it used to be about nurturing talent.
 
When I wrote my first novel, it was rejected, but I am pleased that it was. I learned a lot from the process. I'd sent it to Penguin, who instead of just replying with a thanks-but-no-thanks-now-go-away letter sent me some encouragement and the reader's report. Back then—I don't know if they still do this—they hired out-of-house readers to read unsolicited manuscripts and write up reports. Instead of becoming dejected, I took heart. I decided it wasn't up to scrap and started over.
 
Alison: What gold! I've never seen a reader's report. I have seen my fair share of thanks-but-no-thanks-now-go-away letters…
 
James: Sadly, the industry doesn't respect new authors the way it used to. It's that new business model again. When I started out, it was a rule that you sent a manuscript to one publisher at a time. They'd get shirty about going to all the trouble of assessing a submission only to find someone else picked it up. Now, the standard is simultaneous submissions.
 
Alison: How has Brisbane's literary landscape changed during your career?
 
James: Back in the mid-eighties when I was starting out, there weren't a lot of support or learning options. We had one course, and the instructor wasn't an author. What Book Links is doing with Write Links is terrific for aspiring writers.
On Success 
Alison: According to your website, A Bridge to Wiseman's Cove is one of your favourites.
 
James: It's certainly the one that has received the most attention as it's still used as a set text in classrooms. I am proud of it. It was my fifth novel.
 
Alison: And it won the CBCA Book of the Year for older readers in 1997. (See James's list of awards here.) Do you remember the moment you got the news?
 
James: Yes! It led to a disagreement with my wife. It was back in the days when I was teaching full-time. My editor phoned me during work hours with all the news. I really wanted to share the moment with my wife, so I went home, pretending I knew nothing. We collected the mail together and opened the CBCA's letter, but I flubbed my lines, and my wife figured out I'd found out earlier.
 
Thank you James for sharing insight into your writing life.

Writing Workshop
Don't miss the wonderful opportunity to learn from James. His workshop Planning a Series is hosted by Book Links and Write Links. Places are limited and filling up fast!
 
What's Covered:
The seminar will focus on what publishers are looking for, how to develop characters who will sustain reader interest across a multiple book series, how to keep them fresh, planning story lines across multiple books and the creation of 'worlds', both realistic and speculative, which suit the writing of series for the young. The emphasis will be practical and much of the activity interactive, so bring along your cherished ideas and be prepared to discuss them.
 
Date: 7 May, 2016
Time: 12:30-1:30
Venue: SLQ, Level 2, QWC
Cost: $15 Book Links members, $25 for non-members.
Booking: Book online here.
 
 
Further information about James Moloney and his books can be found on his website.
 
Ali Stegert is a pre-published kidlit author. Check out her website.