Alison Stegert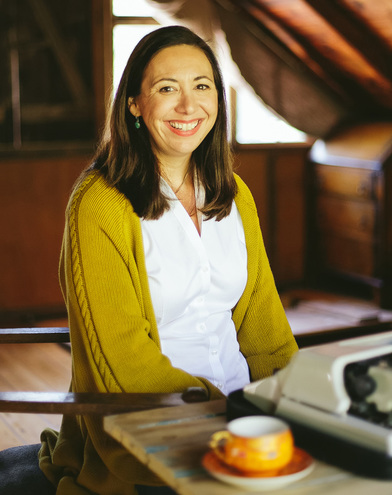 Genres: MG fiction, YA, chapter books, blogging, magazine articles, nonfiction,
Publications:
Screen Education Magazine, Adolescent Success Journal, Which School?, Girlosophy, Gold Coast Writers Festival eBook, Australian Literature Review
Member Bio
10 Questions with Ali
Which writer(s) inspire you?
For sheer wildness of imagination, I admire Neil Gaiman. For wit, I tip my hat to the inimitable Sir Terry Pratchett. For lyricism and gorgeous writing, I enjoy Kate Forsyth, Juliet Marillier, and Sue Monk Kidd. For whimsy and rhyming fun, Lynley Dodd is one of my favourites. John Irving is an amazing storyteller.
What draws you to writing for children specifically?
One of my best childhood memories was the rush of elation at the age of 11 as I turned the last page of The Secret Garden by Frances Hodgson Burnett. I long to reproduce that specific experience for a new generation of readers with evocative, inviting stories of my own. Plus, writing for children is a fantastic excuse to let my stuffy adult mind off its leash to play.
How long have you been writing?
"A long time" is probably a truthful answer. I was about ten years old when one of my mother's friends gave me a How to Type manual, because she said, "If you're going to be a writer, you'll need to know how to type." Since then, I can't remember a time when I haven't been typing, writing, or dreaming of writing. Writing children's fiction, however, is fairly new on my repertoire. I've been seriously working at kidlit since 2008.
Which professional writing bodies are you a member of?
Write Links: Brisbane's Children's Writers and Illustrators
Book Links (QLD)
Society of Children's Book Writers and Illustrators (SCBWI)
Australian Society of Authors (ASA)
What writing resources (online, books or other) do you recommend?
My most recent go-to manual is Mary Kole's Writing Irresistible KidLit. It's a master class for MG and YA writers in a book. My GoodReads' shelf Writer's Essentials catalogues my favourites.
Joining a critique group was one of the best decisions of my writing life. I have grown so much from my involvement with Brisbane Write Links.
Best time of day to write:
Anytime. I carry a notebook everywhere, even on walks or trips to the beach.
What do you do to assist you in writing?
I read a lot, especially in my target age group, and I seek out authors who push boundaries. When writing, I aim to finish every story I start. Even if it's not of a publishing standard, I learn so much from finishing it. And for fun and inspiration, I hang out with other writers whose goals are similar to mine.
What are your writing goals?
Simple answer: I want to write books that children (and their parents) love to read again and again.
Not so simple answer: I have charted a course along the traditional publishing route and have already experienced some of the highs and lows. (No matter what anyone says, sport with all its drama and gore has nothing on "the agony and the ecstasy" of the publishing industry). My goal, therefore, is to experience more of the highs. Here's to publishing ecstasy in the near future!
Was there a particular book in your childhood that had a big influence on you?
I've mentioned The Secret Garden already, that was the book that made me aspire to write books. I also loved Pippi Longstocking, Harriet the Spy, Madeleine, and Curious George.
Who/ what inspires you?
Great storytelling makes my heart sing. I am in awe of the power of narratives. Besides that, bookstores, libraries, creative people, and kindness inspire me.