Lucy McGinley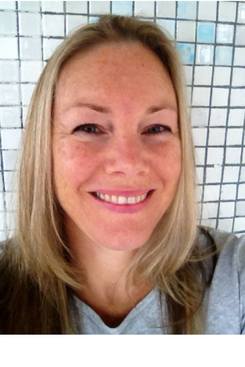 Genres: Quirky comedy Junior Fiction but I have projects in various stages of dress in Picture Book, YA, Short stories, writing for magazines, non-fiction and Fantasy
Publications:
Mr Mammoth's Fossils.
A short story available to download from Alfiedog.com (2017)
Member Bio
Lucy lives in a house where dinosaurs roam the bathroom, chess pieces invade the dinner table and drawings of the weird and the wonderful carpet the floor. Words wrap around her like possums clinging to telecom lines, plop onto pages steadily like koala droppings and dart into the grass like blue tongue lizards! She spends her days captivating kindergarten children and her afternoons marvelling over birds feathers, seedpods and occasionally snake skins, with her son.
Ten Questions with Lucy
What draws you to writing for children specifically?
I love to read children's book either to children or to myself. I work in a kindergarten and often can't find a book I need so I write it myself.
What writing resources do you recommend?
Janice Hardy's Fiction University blog.janicehardy.com I'm cutting down my procrastination opportunities by only subscribing to one 'how to write' blog!
How do you extend on your writing skills?
The great professional development sessions Write Links organise and of course the monthly critique group.
What are your writing goals?
My primary goal was to be published, but I can tick that box now so I would like to be more specific and say that my goal is to have my Junior Fiction Chapter Book series, The Misadventures of Johnny Bumpty, published:
Johnny, the Wildlife Defender and inventor of the Baked Bean binoculars, must use his ingenuity to discover the Snootys ultimate plan. He is helped by Granny Jane, his feisty grandmother and Kipper, his catastrophically curious puppy.
Johnny's nemesis, Bunny Snooty, is out to cause trouble, and she is an expert. His birthday party is a disaster when Bunny sabotages his Supadupa Skateramp. Johnny sees her hide the evidence but he can't do anything because Bunny knows every trick in the book. Even his best friends, Jack and Sam, aren't speaking to him … and it's not just because they were rushed to hospital when the skate ramp split in half!
Will a fortuitous accident that involves Kipper, an old man's false teeth, and a prize winning cake prove Bunny to be the cause of Johnny's fall from grace?
Any other projects you are working on?
I am the blog coordinator and editor for Write Links blog and a reviewer for Story Links, the Write Links book review site.