Sandhya Parappukkaran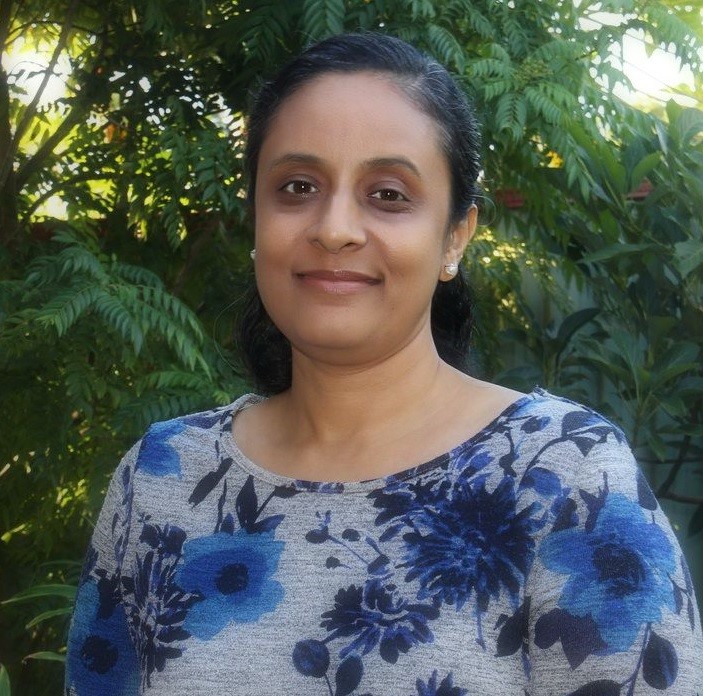 Genres: Picture Books
Publications:
The Boy Who Tried to Shrink his Name, illustrated by Michelle Pereira (Bright Light, Hardie Grant Children's Publishing (2021)
Amma's Sari, illustrated by Michelle Pereira (Bright Light, Hardie Grant Children's Publishing (2022)
Stay For Dinner, illustrated by Michelle Pereira (Bright Light, Hardie Grant Children's Publishing (2023)
Member Bio
Sandhya Parappukkaran writes stories inspired by her multicultural experience. She loves to include scrumptious food and glimpses of nature from her Kerala Indian heritage. Sandhya resides in Brisbane with her husband, three children and a backyard brimming with mango trees, curry leaves, and green chillies.
Sandhya's debut picture book, The Boy Who Tried to Shrink his Name, was inspired by her experience with her own long name. It is the story of Zimdalamashkermishkada, who tries to shrink his name as he starts at a new school. The story shares the message that no one should ever have to shrink themselves down to fit in.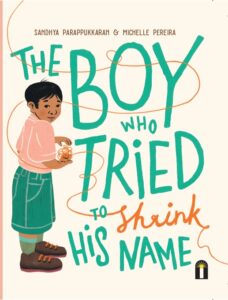 Which author(s)/ illustrator(s) inspire you?

Caroline Magerl, Gus Gordon, Aaron Blabey, Nick Bland, Sue DeGennaro, Jane Godwin… I could go on!
What draws you to writing for children specifically?

Children's books are full of hope and heart. They inspire me on so many levels – to laugh, be silly, be brave and confident and to try new things. I love the way a picture book engages children, and how the artwork and text combine to produce an amazing experience.
How long have you been writing?

Since 2019. I rediscovered picture books in 2018 when my youngest child started to learn to read in Prep. Six months after blogging and Instagramming our favourite picture books, I decided to write my own stories.
Which professional writing bodies are you a member of?

I am a member of the Australian Society of Authors, Book Links QLD and Write Links.
How do you extend on your writing skills? (e.g. which course, writing groups, or conferences etc.)

I've completed the AWC Writing Picture Books course and attended the CBA – The Business and Craft of Writing Picture Books course. Mentorships are fantastic. Having won the 2020 ASA/Copyright Agency 20-hour mentorship award, I would highly recommend it to everyone. Writing groups, such as Write Links, help keep my writing skills polished — with professional development sessions, writing activations and critique groups. Conferences such as CYA are terrific boosters to my writing as they offer inspiring sessions from experienced writers, and editor assessment opportunities.
What are your writing goals?

When I finish reading a book, there is a moment before I return to reality, where I'm suspended in awe at the beauty, cleverness and satisfaction of the narrative. My writing goal would be to capture a little bit of awe in my books.
Was there a particular book in your childhood that had a big influence on you?

No, not just one, but books with magical worlds, friendship and food. Enid Blyton's The Magic Wishing Chair, The Mallory Towers books and Famous Five were favourites. I also loved reading Blinky Bill, The Magic Pudding, Heidi and The Secret Garden. My favourite picture books were Funny Bones by Allen Ahlberg and Snugglepot and Cuddlepie by May Gibbs. When I was 18, I read Roots by Alex Haley, which had a profound effect on me.
Is there a particular theme or underlying subjects that run through your writing?

When I started writing, all my multicultural experiences flowed out onto the page. Embracing your culture and differences is the underlying theme in my books.
Who/ what inspires you?

Books have always inspired me. I've grown through reading books and continue to do so. Nature inspires me as she freely gives out inspiration to those who slow down and take time to savour the beauty and awe all around us.
Have you got any inspirational writing quotes you would like to share?

The scariest moment is always just before you start. After that, things can only get better. Stephen King