Zewlan Moor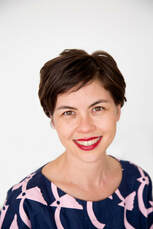 Genres: Ages 0-100. All formats and genres but mainly Picture Books and Middle Grade.
Publications:
Feature articles in Essential Kids and Medical Republic
Member Bio
Zewlan (pronounced Shoolen) Moor is a writer, GP and bibliotherapist who lives near Byron Bay with her husband and small children. In 2018 she was longlisted for the CBCA NSW Aspiring Writers Mentorship and shortlisted for the Writing With the Stars Picture Book Mentorship. Her alias is "Sooty Owl", Girl Guide Leader.​
Questions with Zewlan
What draws you to writing for children specifically?
Partly I write for my childhood self. Back in the 80's I distinctly remember thinking there weren't enough books in between picture books and long chapter books. But that problem has obviously been rectified today! I still think there is a gap in the market for the sorts of books I liked to read as a child, so I'll concentrate on writing those.
I also appreciate the form and the unique aspects of power relations in the world of children's books. I'm interested in the many ways in which children's book creators open up space for the child reader to have agency within the world of the book. Hopefully this is a practice space for them to try out different scenarios and ways of being, giving the child confidence to take that agency into the wider world. I love being part of that conversation as a critical reader, but I would also like to contribute as a writer.
How long have you been writing?
I started in earnest in 2015, after finishing my GP Fellowship exams, having my second child and building a house (while being filmed for Grand Designs Australia!) in quick succession. I'm a slow writer though, fitting it in between work and other commitments. I am trying to cut down on other distractions.
Besides writing, what are your other hobbies, interests or obsessions?
Reading; Radio National; podcasts; audio-drama; social justice & boardgames
What writing resources (online, books or other) do you recommend?
The Australian Writers' Centre offers genuinely helpful courses that somehow help bypass obstacles such as writer's block and the inner critic. They also offer wonderful free resources via their "So You Want To Be A Writer" podcast.
The Duck Pond is a friendly and positive Facebook group run by the phenomenally talented author, Jen Storer. I find it an uplifting space and a great go-to for industry gossip.
In terms of books about writing, I'm sure I've read them all – I'm an excellent researcher (cough, procrastinator)! Standouts for me are Writing Picture Books by Ann Whitford Paul; Story by Robert McKee and Story Genius by Lisa Cron.
The CYA (Children's & Young Adult Writers & Illustrators) Conference is friendly and informative, with good value manuscript assessments (you're able to submit two
manuscripts) and it's convenient for me, being in Brisbane. I'll be attending my third in 2019.
I also really enjoyed attending the SCBWI Conference in Sydney in 2019.
Best time of day to write?
Morning, 4am, is best, but whenever I can snatch some time.
Which writers inspire you?
I'm inspired by a mix of classic and contemporary children's writers, both Australian and international. I find these ones, in no particular order, consistently good: Beverly Cleary; Ann M Martin; Rosemary Sutcliff; Michael Rosen; Anne Fine; Rebecca Stead; Micheal Morpurgo; Robin Klein; Odo Hirsch; Jaclyn Moriarty; Ursula Dubosarsky; Margo Lanagan; Hilary McKay; Philip Pullman; Julia Donaldson; Mac Barnett; and Adam Rex.
Was there a book from your childhood that had a big influence on you?
Ramona Quimby Age 8 by Beverly Cleary – I remember pulling this one off the shelf in Yr 2 or 3. It appealed because it was thick, and I was sick of books ending too quickly. It also had biggish writing and cute line drawings. It was everything I wanted in a book – a funny story about real people, with no talking animals!
What are your writing goals?
I aim to write like any of the writers listed above, so I can die happy. Or, like Jasper Jones' father, to write something "smart and sad and beautiful" (Silvey 2009, in Jasper Jones, 373).
Short-term, I aim to keep my butt in the chair and improve my craft, submitting work to my critique group to keep myself accountable along the way.
Which professional writing bodies are you a member of?
Society of Children's Book Writers & Illustrators (SCBWI)
Australian Society of Authors (ASA)
BookLinks & WriteLinks
Queensland Writers Centre
Writing NSW
Any quotes or words of wisdom on writing?
Ira Glass on closing the Creative Gap (that space between what your taste dictates your work should be and what it actually is): "Do a huge volume of work. Put yourself on a deadline so that every week or every month you know you're going to finish one story. Because it's only by actually going through a volume of work that you're actually going to catch up and close that gap."
Summarised nicely by Jen Storer as: "Do the VERK."