Recent Successes By Write Links Members – July 2014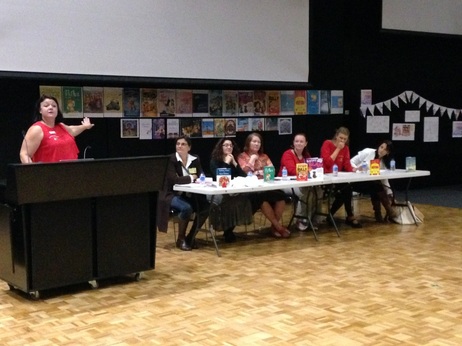 CYA's Tina Marie Clark introduces the CYA success panel.
Quite a few Write Link Members had an amazing weekend at the
CYA dinner and conference
where three of the six writers on the CYA Success Panel were also Write Links members. Congratulations to
Caylie Jeffrey
,
Karen Tyrrell
and
Samantha Wheeler
!
And while we are talking about success stories, here are a few more!
Sharing Write Links successes will now be a regular feature on our blog. I know of several other Write Links members with new and upcoming successes to share in the very near future.  
We finish this post with some great tips and insights, including highs and lows,  from each featured author from their road to publication.
Melanie Hill as Melanie Bird
Publication:     18
18 is an Anthology of short stories for Young Adults collated by Vision Writers. Melanie's short story is titled 'The Black Queen'.
Road to Publication: 
In September of 1996, a collection of speculative fiction authors founded Vision Writers. Now, in celebration of eighteen years bleeding on the page, we present 18, a collection of stories showcasing our best emerging talents.
Featuring cave crocodiles and spell absorbing beards, a seance with soul, a night in a gypsy caravan to make all your wishes come true and a journey through hell that will make you swear to be good. Come with us to rebuild the world clock, face the dragon queen and hide from the thing under the bed.
18 is self published anthology using the editing and self-publishing expertise of some of the Vision members. The stories are aimed at young adult to adult readers.

The e-book version can be purchased from Amazon for $1.07. Print on Demand hard copies can be ordered through the authors for about $9 a copy. Purchase your copy here.
Caylie Jeffery
Publication:  Bedtime Stories for Busy Mothers
Road to Publication: 
After trying my hand at children's picture book writing, I found that my words appealed more to adults than children, so I started a blog with weekly essays about life matters and imperfect parenting and haven't stopped writing since, for myself and several other publications.

A friend suggested I self-publish a collection of essays from my blog, and hey presto! the idea for Bedtime Stories for Busy Mothers was created! I researched how to self-publish, found a printer I liked in Brisbane, a cover illustrator and an editor to help me with the work I'd done. I asked several close writer friends to critique the final draft, and after a lot of hard work by many people, the book was successfully launched before Mothers Day 2014.

The target audience is women between 25 and 125, mainly mothers, but plenty of men have been enjoying it as well, and non-parents, so it has something for everyone in it.

 You can purchase your copy here.
Karen Tyrrell
Publication: STOP the Bully
This is a children's book for 8 to 12 year olds, teachers, parents and school counsellors.
Road to Publication: 
I'm a survivor of childhood bullying and parent-teacher bullying. I'm passionate about empowering children with an uplifting story with bully prevention skills. I wanted to show all perspectives of the bullying problem including the victim and the bully.

The ending of the story came to me first. Then I wrote the story backwards over 18 months. STOP the Bully was Beta read by members of my Genre Writers group plus Charmaine, Jacqui and Leslee from Write Links.

I independently published with the help from editor, Sally Odgers, Book Cover Cafée and illustrator Trevor Salter who designed the cover characters.

STOP the Bully is supported by Kids Helpline & Logan Mayor Pam Parker, aligned with Kids Matter, Education Queensland

Available at Amazon  Black Cat Books Riverbend Books and Book Shops here.
Jocelyn Hawes

Publication: Undertow (Anthology)
Road to Publication:
Jocelyn's story 'Dear Sam' was published by Prana Writers, a Gold Coast writing group in May 2014. This is one of 20 stories in an anthology titled 'Undertow. – Tales from Outside the Flags. '  – a unique publishing venture.
Prana Writers received funding from The Regional Arts Development Fund, Queensland Government and the City of the Gold Coast. Each chosen story features a historical photograph which shows some aspect of the Gold Coast environment from the sea to the hinterland.  'Dear Sam' is set in the Numinbah Valley in 1942 and my chosen picture was the Natural Arch. This place was of particular   interest to me as I had discovered its magic as a child and later this was a special place to which we often returned over the years.

Undertow is available from Amazon for $17.95 plus postage. Purchase your copy here.
---
Tips for emerging writers from our featured authors:Melanie:
Join a writing group or two. Camaraderie and shoulders to cry on are essential in your journey as a writer.
Set yourself realistic and achievable goals. Review your progress regularly and you will be surprised at how much you achieve.
Caylie:
Don't be afraid to self-publish. There are plenty of people to help you on your way, and in the time it takes to be 'discovered', you could have published your own book. Never scrimp on quality and make sure you have trusted people to edit your work who will be absolutely straight with you. Be prepared to hear bad news about your craft! You don't need to spend a million dollars for a great product- it's possible to work smart within a budget.
 
Karen:
Enlist key supporters prior to publishing for possible logos and endorsements.
To acknowledge that this is not an easy road at times, what has been the most frustrating experience on the road to publication?
Melanie:
Trying to re-write and edit two drafts of my story over Christmas while we were driving to Tasmania and back with a car full of kids and limited internet coverage.
Caylie:
Having to sell my own products to strangers is really hard work- firstly, it's difficult for most people to blow their own horn, talk to strangers and become a centre of attention in the public arena. Start off small, practice with people you know at book launches and small events if you're frightened to promote. Go to other book events and launches to see what's involved. To sell books, published traditionally or by yourself, you will still need to self-promote.
Karen:
Smooth sailing but a few hiccups with the printer forgetting to list, Stop The Bully, on world-wide distributing channels. All fixed now.
And lastly, what has been the most rewarding experience since publication?

Melanie:
Downloading the book onto my own Kindle and reading the final versions of everyone's stories.
Caylie:
Having strangers write to me to tell me how much they've enjoyed the book and how they connected with me through my writing! Oh, and being asked to be a speaker at the Brisbane Writers' Festival in September 2014!
Karen:
Taking STOP the Bully to CYA Conference, Gold Coast Writer's Festival, to schools & libraries.


I hope you enjoyed reading about the successes of these Write Link members, we look forward to sharing many more of these stories in the future!

Yvonne Mes