April Write Links Meeting with Stephanie Hogan at Black Cat Books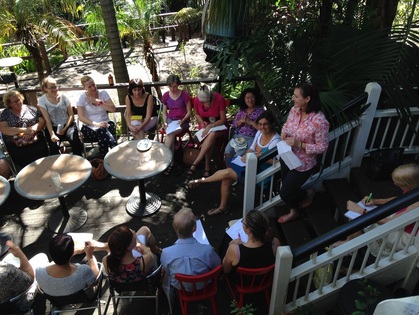 Stephanie Hogan presenting to Write Link members.
A change of venue this month from the State Library Queensland to the lush and seductive (how can you not buy a book when you are there!)
Black Cat Books in Paddington.
Stephanie Hogan, the owner of Black Cat Books, gave our group of children's writers an in-depth and fascinating look at what goes on behind the scenes in a bookshop. From how books end up on the shelf, how long they stay there, tips for self-publishing, how to maximize your book launch and how to improve your chances of getting your book published and see your books on bookshop shelves, invaluable information for us published and unpublished authors.

Black Cat Books is an independent bookshop that specialises in children's books.
About Black Cat Books:
Nestled in the heart of Paddington, Black Cat has long been the site of a bookshop but has been proudly independent since January 1st 2010. With an eclectic collection of books, it is the perfect place to browse for a great read, and then relax with a coffee in our café downstairs. Owners, Peter and Stephanie Hogan enjoy the role their shop takes in being a part of the Paddington community and actively support local schools. Stephanie's teaching background has seen her great love of children's literature being infused into the store resulting in a fantastic children's section. All staff at Black Cat are passionate book lovers and will be happy to assist in finding that perfect book.
(From the website)
There was also exciting news by several of our members this month:

Caylie Jefferey will be launching her book Bedtime Stories for Busy Mothers at Black Cat Books on Saturday the 10th of May at 10am. (I will follow this up soon with a review as I was privileged to read an early copy!)

Peter Taylor will be launching his Picture Book Once a Creepy Crocodile illustrated
by Nina Rycroft including a sing-along CD by Rusty Berther, Published by The Five Mile Press
at a place, time and date to follow!

Karen Tyrrell will be launching her Junior Novel at Black Cat Books on Saturday the 31st of May at 10am. Keep a close eye on her website as the cover and title will soon be revealed.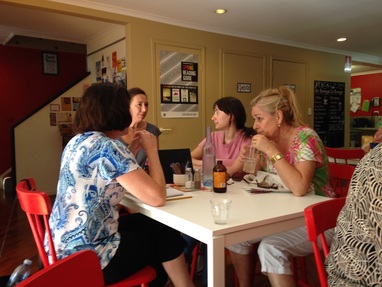 As usual after our professional development session, we split up into our various critique groups.

This month we had two picture book critique groups, a junior fiction group and a young adult group.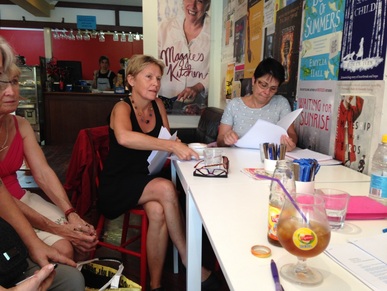 Our next meeting will be back at the State Library from 1 to 5pm on the 3rd of May with a professional development session on Social Media for Writers by
Sam Sochacka.
We welcome new members.
For more information use our contact form or email
Yvonne Mes
: yvonnecmes@gmail.com.
Yvonne Mes  www.yvonnemes.weebly.com