Sophie Beer – Introduction to Writing and Illustrating Picture Books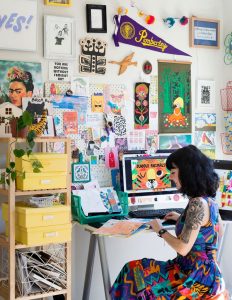 At our November Write Links meeting you'd be forgiven for thinking Christmas had come early.
Excitement and good cheer hung in the air as everyone greeted each other, thrilled for our in–person encounter and to be back in our usual meeting room at the State Library of Queensland, for the first time since March 2020!
Flanked by the Queensland Art Gallery, the Gallery of Modern Art, and nestled between the looming State Library buildings, SLQ Library Shop and Library Café—our little meeting room is perfect, exuding energetic bookish and artistic vibes.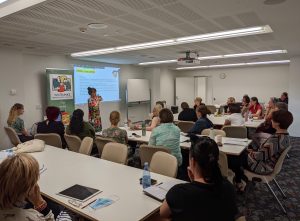 What made the meeting more festive was Sophie Beer's crash course on Dreaming & Scheming to Publishing Picture Books. Sophie Beer is an amazingly talented children's book author-illustrator. Check out her work here. Sophie's workshop was engaging, fast paced and packed full of excellent gems of information for authors and illustrators. We were enraptured as she went through topics such as finding ideas, creating interesting characters, how to liven the language in your writing, different types of plot structure and 'decalage'—which is the French word for 'gap'—the gap between text and pictures where the magic of picture books is found. I'm sure all participants went away determined to find that magic within their own stories.
At this month's meeting, for the first time ever, we trialed having online participants dial in via zoom, with the help of our techie crew, and it worked like a treat!
Photo credits – Annaleise Byrd and Zewlan Moor