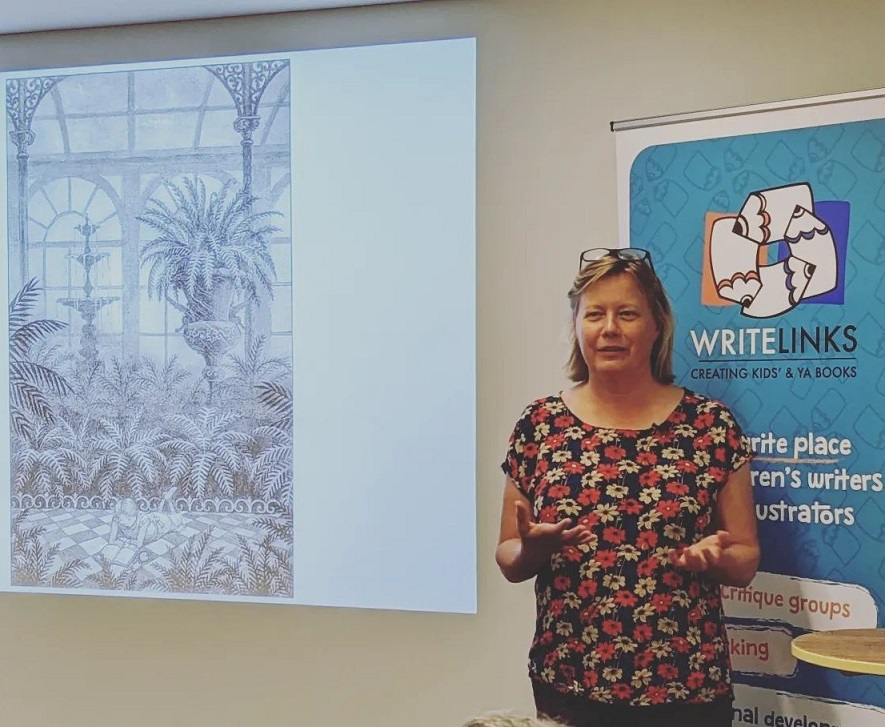 Workshop with Judith Rossell
There was a packed house at the Write Links meeting at the State Library of Qld on Saturday, with good reason… the incredible Judith Rossell, author of Withering By Sea, was in residence. Listening to the story of her career was fascinating and inspiring, for both the writers and illustrators in the room. For starters, we learned that she has illustrated over 80 books, an incredible achievement, and for a very long time was solely an illustrator for other people's books, before the urge to write her own books surfaced. And thank goodness it did.
A question often asked of writers is, are you a plotter or a pantser. That is, do you meticulously plot your entire story before you get started, or do you just jump in and fly by the seat of your pants. Judith, she told us, is neither. She is a planner. A sketcher. A maker of maps. She hunts for interesting photographs and pictures. She uses them as inspiration to start her scenes. She draws maps to help her sort out the jigsaw puzzle of how to get a character from one place to another. She even uses old hotel floor plans for inspiration. Who knew there was a room solely for the purpose of polishing glass in some old English hotels. And what a great place for someone to hide, and perhaps end up breaking it all! Judith even went so far as to stay in a historical Melbourne hotel one night just so she could wander the halls at night and get the vibe just right.
If we weren't convinced at this point that using photos and pictures was the best way to start a story or a scene, the writing exercise she gave us laid to rest any doubts. A simple photo of a house with an iron gate and cobblestones leading up to its front door, inspired the most incredible writing from us all. It was a light bulb moment really. She had us thinking about what the garden sounded like, how it smelled, what was the weather like. She encouraged similes and quirky details. Then with her help, we created villains of all shapes and sizes, by thinking about tiny details, characteristics, quirks and habits. And the big question: What is it that they want?
Well, this writer knows what she wants… to be just like Judith. From now on, whenever I strike a patch of writer's block, I'm heading straight to the internet to search for "Victorian Era Family Photos". Now that I know about this fantastic writing hack, I'll never be without inspiration again.
By Alison Mclennan
Find out more about children's author Alison Mclennan and her books at her website www.alisonmclennan.org

On Facebook https://www.facebook.com/alisonmclennanchildrensauthor

and Instagram at @ally_mclennan