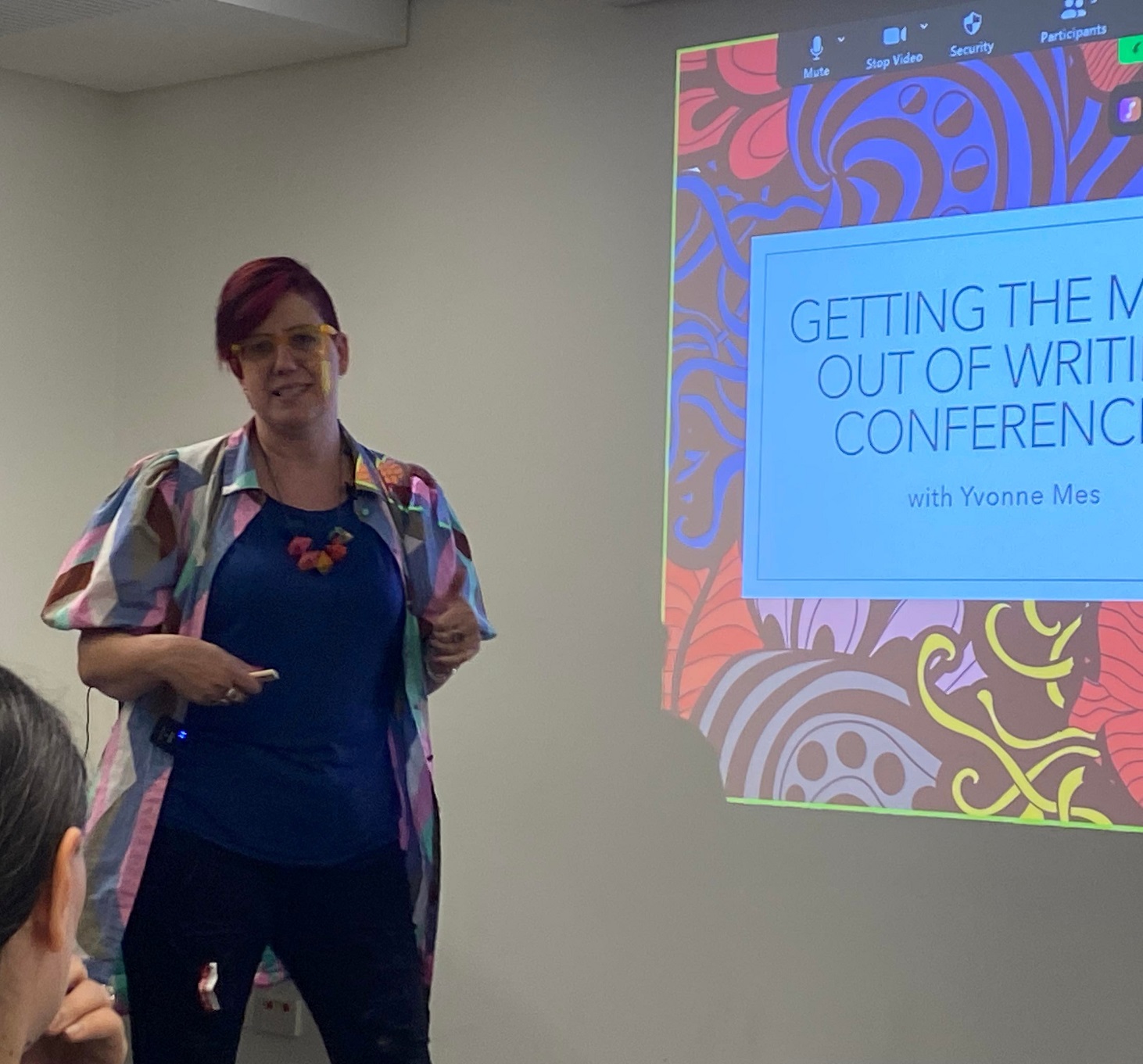 Getting the most out of writing conferences – led by Yvonne Mes
Attending kidlit conferences can be fun, exciting, informative, nerve-wracking, daunting and, let's face it, sometimes expensive. But with some hard-won expert guidance from Yvonne Mes, ably assisted by Rebecca Sheraton, Write Links attendees got the low down on how to make the most of writing conferences.
For starters, Yvonne talked about the benefits of attending a conference. If you can afford it and you're able to get there, the advantages far outweigh the disadvantages. Be brave, be prepared, and make the most of the opportunities available. Conferences are not just about the art/craft/business of writing and illustrating, but they also offer opportunities to gain feedback from editors and agents, maximise your networks, and meet other creatives. Try to do 1-2 a year if you can.
When choosing which conference to attend, Yvonne suggested a range of things to consider in accordance with your budget and what you want to achieve. This may include the size of the conference, what's on offer, the keynote speakers, and which industry professionals are attending. Volunteering or applying for an available scholarship (if applicable) can make it more affordable.
Be prepared for the conference and have realistic goals. Do your research on the presenters and editors. Take the opportunity to present yourself as a professional, using business cards/post cards and dressing appropriately (maybe even a statement piece!). If you're an illustrator, take your portfolio with you.
While there, attend the social events, use social media to your advantage and try pushing yourself out of your comfort zone by talking to people you don't know. But Yvonne reminded everyone not to forget about enjoying yourself too! If the conference is online, it's just as important to be prepared so any potential technical difficulties are addressed before it starts.
Competitions can be worthwhile, depending on who is judging. Editor/agent feedback, although potentially pricey, can also be worthwhile. Choose carefully and don't expect a contract at the end of your meeting.
Realistic expectations are key!
Lastly, once the conference is over, Yvonne reminded everyone to keep the writing/illustrating fires burning by sharing your notes, celebrating other people's wins, following up with agents and editors, and getting on with why you attended in the first place – writing and illustrating.
By Melissa Salisbury
https://www.instagram.com/melissasalisburyauthor/
https://www.facebook.com/melissasalisburyauthor