Compelling Characters Workshop with Gus Gordon
One sunny autumn afternoon, illustrator and author Gus Gordon shared his wisdom with the world.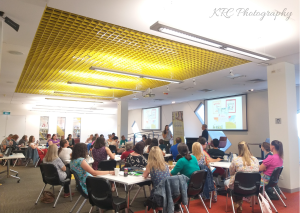 On Saturday 6th May 2023, the monthly WriteLinks session featured an internationally acclaimed guest with over eighty books to his name. Forty creatives filled the room to learn about "Compelling Characters: How to create rich, authentic book characters that readers will love" presented by Australian talent, Gus Gordon.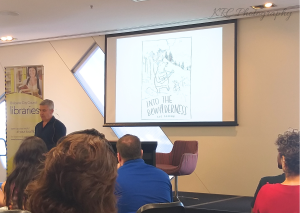 After initially peering in at us through the window, like WriteLinkers in a think tank, Gus drew us into his world of endless imaginative possibilities. From his past to his present and glimpses into his future, he explained how characters have been and will be key in all his stories.
"I believe the story comes easier if the characters have already taken some kind of form." ~ Gus Gordon.
Throughout the ninety-minute session Gus questioned the audience's understanding of characters and stretched creative muscles. His writing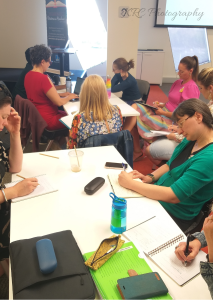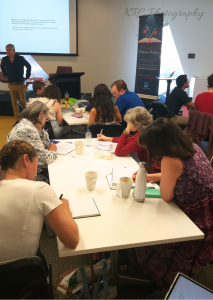 exercises ranged from brainstorming, to developing opening sentences then led into writing the beginnings of new master pieces. These alternative ideas and processes provided opportunities to think differently, apply his teachings and be creative on demand. Only the sound of pen on paper or stylus on device could be heard during each of the five-minute tasks as the eager audience was engrossed in their writing.

Gus used published literature, as well as his own works, to support and elaborate on his teachings along the way. Both words and illustrations were sampled from the chosen texts, demonstrating analysis of the myriad of ways characters can be created before narrowing it down to his top tips for great, memorable, compelling characters. Identifying even the most tiny or quirky of details by the author or illustrator can make all the difference. Some of the key authors referenced were: Richard Scarry; Gene Zion; Kenneth Grahame; Leigh Hobbs; William Steig; Julia Donaldson; Quentin Blake; Ludwig Bemelmans; Tomi Ungerer; Eric Carle; Jon Klassen; and Shaun Tan.

After reminding us to reconnect with our inner child and to make the characters feel real, the workshop concluded with a dynamic question and answer session, teasing out character development even further.
As the afternoon came to a close on an insightful session, Gus imparted one final pearl of wisdom:
"Don't underestimate how a good character can change the bend in the river." ~ Gus Gordon.
​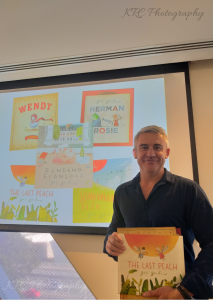 On behalf of all the authors and illustrators in attendance, I would like to express appreciation to Gus Gordon for sharing his time and knowledge in such an engaging and informative workshop. Also, to BookLinks for coordinating and Brisbane Square Library for hosting such an delightfully creative escape in which we got to further develop our professional writing skills.
​
For more information about Gus Gordon and his collection of books, check out:
http://www.gusgordon.com/
https://www.instagram.com/gusgordonbooks/
​For more information about BookLinks, WriteLinks, future workshops and events, explore:
https://booklinks.org.au/
https://writelinks.booklinks.org.au/
For more information about author, educator and photographer KR Clarry, visit:
https://www.krclarry.com/
https://www.facebook.com/KRClarryWriter/
By KR Clarry.
Photo Credits: KRC Photography.